Disney California Adventure Park Facts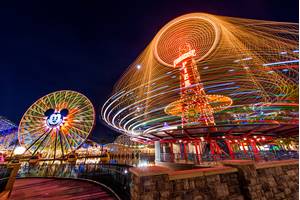 Disney California Adventure Park is relatively young, opening in February 2001, with expansions completed back in 2007. Walt left his Disney legacy for all to enjoy, with a few secrets that fact finders like to seek out. Here is a few at Disney's California Adventure Park. 
Fact 1:
Disney California Adventure Park is originally Disneyland's old parking lot, and the park's original name was Disney's California Adventure, until 2009. I know… two facts for the price of one, and right off the bat, too! 
Fact 2:
The Red Car Trolley #717 has a double meaning. The trolley type is series 700, same as used in 1920 in city areas and Disneyland opened on July 17, 1955. It seems nothing is really left to coincidence when it comes to Walt Disney.
Fact 3: 
The Red Car Trolley #623 is connected to Walt Disney two ways. The 600 in the # 623 is the model number of the trolleys used back in the 1920s. The 23 was important because he came to Los Angeles to live in 1923. Very few knew that he made this fateful decision because his company in Kansas City, Missouri, Laugh-O-Gram Studios went bankrupt the same year. There are so many people's lives he has affected by this one life-changing move he made. Thank you, Mr. Disney!
Fact 4: 
The Buena Vista Street in Adventure Park is a re-creation of what the street looked like in Los Angeles when Walt Disney lived there when he first relocated to California. That is also, where some of his animators have lived. The mailing address for the Walt Disney Animation Studios is 500 S. Buena Vista Street, Burbank, CA 91521.
Fact 5: 
The set of mailboxes that sit along Buena Vista Street is meaningful to the Disneyland Resort. There are four in a row. The first one was a former cast member, Staci Yoshiwara. The second one was the drunken detective from the movie Who Framed Roger Rabbit, Eddie Valiant. His voice was Bob Hoskins. The third box belongs to Don Knotts' character, Theodore Ogelvie, from both of the Walt Disney's movies series The Apple Dumpling Gang. The last box is either Cliff Seacord's best friend, Peavy Peabody or the character, Officer Percival P. Peabody from Disney's Hollywood Studios in Orlando, Florida. I like to think it was the friend, just because Walt seemed to be more sentimental that way, or at least, allow the name to have the double meaning. 
Fact 6:
This one is a fact and freebie! You can get a free souvenir by heading over to the Red Car Trolley pick-up when you enter the park. The Buena Vista Bugle newspaper is free and gives information about the parks activities coming up. It also gives you where the 'Meet & Greets' are going to be for those anxious children who have Disney Heroes they are waiting to see! There are also some located over at Carthay Circle. When California Adventure started providing The Buena Vista Bugle, it was only supposed to run for a short period. People liked it so much that it became a mainstay of the Park.
Fact 7:
If you are exclusive enough to belong to Walt Disney's secret Club 33, then you have access to the private members-only Lounge 1901 located in California's Adventure Park. The lounge was named after Walt Disney's birth year and is close to the Carthay Circle Restaurant. I here they have the best service around. 
Author: Michaele Wagner
Add Your Comment
Use the following form to leave your comment on this article.