Tips on the Trip to Grand Canyon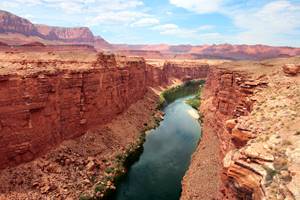 As with any family vacation you should start with a well thought out list, pack it and then check it again. The Grand Canyon is one of those places where this is particularly important and for a few reasons. First, you don't want to realize you forgot something important as with most trips but secondly  people forget that the Grand Canyon is a major tourist area. Major tourist area means that it's going to be outrageously expensive to replace basic necessities that you've forgotten.  So far as clothing goes another thing many people disregard is that if you're going in the summer as a desert, by nature it is going to get cold at night. Desert's face some of the most dramatic temperature drops in the few hours of dusk and dawn. Pack for hot but bring something to protect you from cold. Proper footwear should be considered also, hiking boots are nearly a must. Water bottles and a jug for larger water storage as well as skin protection.  Family Vacation Season The vacation season that brings Europeans in, and kids are out of school is from the end of May to the end of August. This is also the hotter end of the year and if you can avoid coming during this time it's encouraged that you do. The canyon is beautiful and nearly vacant through mid-fall until early-spring. There's fewer crowds, and less fight for camping space or hotel lodging.  If you can only block out time to visit during the summer months make plans far in advance. While camping is recommended without a doubt it should be taken into consideration how many people you'll be camping near in the summer. This may be the one time it's best to book a room, then you're guaranteed a bit of space and easy resting.  The East and South Rims Each rim offers an incredibly different sight experience, and kind of have their own feel. It's the East and South rims though that are known for their spectacular trail rides, viewpoints and sunsets.  The South Rim is what most people envision when they think Grand Canyon. Typically because it's the most photographed vantage point and is used by most media forms. This is because it shows off all of the Grand Canyon's magnificence. If you're trying to capture that bigger than life panorama... the South Rim is where you do it.  The East Rim however has much to rival. Little Colorado River Gorge, Antelope Canyon and Rainbow Bridge. These are not only sights but experiences that you won't get anywhere else. The East Rim has less tourism traffic, however it should be noted isn't recommended for families with children as only one sight spot has guard rails. You can see the entire Eastern Rim by various helicopter or boat tours which as they're guided feature many of the main attractions that would bring you to the East Rim.  Camp! For Price and Experience  If you're coming any time out of the peak summer seasons then you need to camp. Stay out and watch the stars, sleep with the Arizona night air. It's an experience you can't miss. There are a few campgrounds to choose from and many with easy access to great viewpoints.
Add Your Comment
Use the following form to leave your comment on this article.