How to Prepare for a Great Camp Trip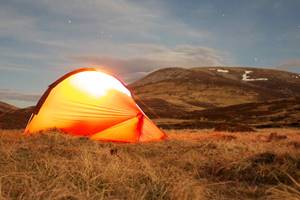 How Many Movies are About a Bad Camping Trip?
Really it's used as the premise of many great comedies, and also horror films. Not that some crazed maniac out of a slasher film is going to find you in the middle of a campground that has other people at it. It's actually really easy to make sure your camping trip doesn't go bad, but making it a great one is even easier!
Trial Tent Setup
When I was a kid and my family just moved into an area that had some nearby campsites we decided to be 'campers'. The first few trips went really badly and we learned a lot. One of the most important things, is to always setup your tent at home first. That's right, just in your yard but it accomplishes a few things.  First, you'll find out if you're missing any stakes, poles or joint connectors. These are super easy to replace but really difficult if you're already out of town and it's starting to get dark.  Secondly, if it's your first time putting together a tent, or you are setting up a new tent, you'll have a thorough knowledge of how it goes together before you get to the campsite. I've seen this cause many arguments on the first night of camping. Someone doesn't want to read the directions, someone else already knows how to do it... just do it at home first, with everyone involved reading the instructions.  Finally, you'll know if it's the right size for you. If you have a large family, and the adults to kids ratio is pretty even, you're probably better off with two small tents. Big tents take a long time to setup, are complicated, and usually you really don't need that much space. Keep in mind you're not going to be spending a lot of time in here so you literally just need enough space to stretch out comfortably while you're sleeping.
Leave Your Coolers... Not in the Tent
Again tent space is for sleeping and keeping the coolers for your food in the tent is just a bad idea. On one of our first camping adventures we woke in the middle of the night to scratching right next to where we had kept our food on the inside of the tent. But the scratching was coming from the outside, and there were no shadows. Squirrels, no joke, were so determined to get to our food that they were scratching on the tent to get in. Leave the coolers and food in the car. 
Foil Dinners
As we learned we found tons of way to let us get more time out of our weekend by not having to really cook anything. Foil dinners are all done in advance, separated out by person and thrown onto something like a dutch oven over the open flames of your campfire. They cook up and then you're set. No plates needed, no clean up besides putting the foil aside to throw away. The best part, you can put them on and then forget about them for thirty minutes. Hang out by the fire and not worry about dinner burning! 
Camp Etiquette
Lots of campgrounds have etiquette that is ready at their check in area. Most times its to bring the noise level down to a minimum after 9 or 10 at night and be generally respectful of those around you. By being a respectful camp neighbor you're not only setting the standard but others will enjoy camping near you. 
Photo by: Nick Bramhall
Add Your Comment
Use the following form to leave your comment on this article.