Transporting Yourself Through the Beehive State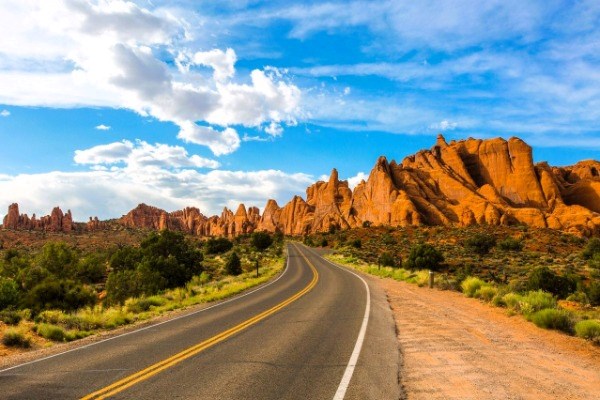 Utah is a state full of natural wonders and outdoor adventures. From the iconic rock formations of Arches and Canyonlands National Parks in the southeast to the snow-capped peaks of the Wasatch Range in the north, Utah has diverse landscapes and activities to enjoy. Getting around this beautiful state can be a challenge, but with the right mode of transportation, you can easily access all that Utah has to offer.
Conquering the Canyon Country
Southeastern Utah is defined by the red rock canyon country, home to five breathtaking national parks. Arches National Park showcases the largest collection of natural sandstone arches in the world. Dead Horse Point State Park sits atop a peninsula with sheer cliffs overlooking a gooseneck in the Colorado River. Canyonlands National Park contains mesas, canyons, buttes, and rivers split into four districts. Capitol Reef National Park features rainbow-hued cliffs and the 100-mile-long Waterpocket Fold. And Bryce Canyon National Park stuns with orange and white sandstone hoodoos set against blue skies.
To experience this incredible canyon scenery, renting an SUV or camping vehicle provides the freedom to traverse rugged backroads and set your own pace. While each national park has its own character, they all share a color palette of red, orange, white, and turquoise. Stop frequently to hike short trails and viewpoints to fully immerse yourself in the landscape. With wide open spaces and constantly changing lights, photographing the parks is hugely rewarding. Drive scenic byways linking the parks to fully appreciate the diversity of Southern Utah's canyon country.
Hitting the Slopes up North
In northern Utah, outdoor adventure awaits at the numerous ski resorts nestled high in the Wasatch Mountains above Salt Lake City. This is a ski destination with something for everyone. Alta and Snowbird are favored by expert skiers and riders for their steep terrain and plentiful powder. Park City, Deer Valley, Sundance, Solitude, Brighton, and Snowbasin offer varied runs for all ability levels. And family-friendly Beaver Mountain is a hidden gem with smaller crowds.
The proximity of world-class skiing to a major city airport makes Utah a convenient winter destination. But navigating winding mountain roads requires caution and preparation. Renting an all-wheel drive vehicle provides added traction and safety. Checking snow and traffic reports before heading out is essential. Carrying tire chains, an ice scraper, and blankets provide peace of mind.
To fully experience apres-ski culture, stay slopeside or in one of Utah's charming mountain towns. Savor hearty stews, local beer, and live music after an exhilarating day hitting the slopes. Utah's ski resorts each have their own character, so sample a few during your stay.
Exploring Mighty 5 National Parks
Visiting Utah's "Mighty 5" national parks - Zion, Bryce Canyon, Capitol Reef, Canyonlands, and Arches - is a travel rite of passage. Linking all five parks on a Utah road trip adventure shows off the diversity of scenery across the state. Each park has its own unique landscape, from Zion's soaring red canyon walls to Arches' giant sandstone arches. But the parks are spread far apart, connected by long stretches of open road. Having your own set of wheels makes this quintessential Utah trip possible.
A campervan or RV allows you to sleep under the stars and wake up in the parks. Stock up on food in small towns along your route. Stop at viewpoints to take in the sweeping vistas. Hike trails through forests and canyons to fully immerse yourself in the landscapes. Drive the scenic byways between parks to understand the context of the geology. Visiting all five national parks takes advanced planning and time. But cruising the open roads in your own vehicle lets you set the pace and schedule to create an epic Utah adventure.
Cruising Through History on Scenic Byways
Utah is filled with history, from Native American rock art to Mormon pioneer relics. Driving the scenic byways allows you to immerse yourself in the stories of the past while surrounded by beautiful backdrops.
In Southern Utah, the Trail of the Ancients Byway passes archaeological sites of the Ancestral Puebloan people. The Dinosaur Diamond Prehistoric Highway contains museums and quarries showcasing dinosaur fossils. And the Flaming Gorge-Uintas National Scenic Byway winds past the gorgeous Flaming Gorge Reservoir with brilliant blue-green waters.
Up north, the Logan Canyon National Scenic Byway climbs through a glacier-carved canyon with jagged limestone peaks. The Nebo Loop Scenic Byway affords panoramic views atop 11,000-foot Mount Nebo. And the Bicentennial Highway crosses over the last remaining pieces of the Mormon pioneer handcart trail.
Driving these byways gives context to the history and natural wonders you encounter. Stop frequently to immerse yourself in the scenery, explore backroads, and engage with the stories of the land. Having your own set of wheels lets you determine your own timeline to soak it all in.
Cruising Through Zion
Zion National Park attracts hordes of visitors eager to hike among its towering sandstone cliffs and admire its hanging gardens and emerald pools. But navigating the small park can be chaotic, with limited parking and packed shuttle buses in high season. The best way to experience Zion at your own pace is to cruise through the park in your own vehicle.
The Zion-Mount Carmel Highway (SR-9) winds through a narrow canyon with sheer cliffs and switchbacks into the main part of the park. Driving this engineering marvel built in the 1920s provides jaw-dropping vistas around every turn. Stop at viewpoints like the Canyon Overlook Trail or Checkerboard Mesa to immerse yourself in the scenery.
The six-mile Zion Canyon Scenic Drive follows the North Fork of the Virgin River through the heart of Zion Canyon. Pull over at historic sites like the Court of the Patriarchs and the Great White Throne. Hike the Emerald Pools and Riverside Walk trails starting along this route. Having your own vehicle allows you to determine your own timeline and easily access trailheads.
Zion's viewpoints and hikes are conveniently connected by roadways. Explore the park at your own pace by driving through Zion to admire its grandeur from all angles.
Cruising Through Time on the Bonneville Salt Flats
Visiting the prehistoric Bonneville Salt Flats in Utah is like stepping onto another planet. The barren white landscape stretches for miles and reflects the blue sky and mountains, creating surreal scenes. This salty terrain has an otherworldly quality and unique natural beauty. Driving across the salt flats when they are covered with water creates the illusion of cruising across a giant mirror, adding to the mystical atmosphere.
The salt flats form a crust on top of the Great Salt Lake Desert, nestled against the Silver Island Mountains. Rainwater fills the area periodically, creating a thin layer that appears as smooth as glass. The stark backdrop of rugged mountains contrasted against the salty ground is mesmerizing.
Driving on the Bonneville Salt Flats allows you to immerse yourself in this strange natural wonder at your own pace. Cruising across the salty terrain evokes the feeling of traveling through time to an ancient era when the entire region was underwater. While you can only drive on certain sections when they are dry, experiencing the salt flats from your vehicle provides a unique perspective on this otherworldly Utah landscape.
Cruising Through the Beehive State
Utah is an ideal road trip destination with diverse scenery best explored at your own pace. Vast and varied terrain separates its national parks, ski resorts, scenic drives, and unique landscapes. Having your own set of wheels allows you to immerse yourself fully, stopping frequently to hike, take photographs, and detour down backroads. While a Utah shuttle service can transport you between destinations, road-tripping across Utah allows you to travel on your schedule. Renting an SUV, campervan, or RV provides the freedom and flexibility to cruise through Utah's natural wonders at your leisure. From the red rock country to the snowy peaks, experience Utah up close by getting behind the wheel.
Add Your Comment
Use the following form to leave your comment on this article.