Explore the World's First Peppa Pig Theme Park in Central Florida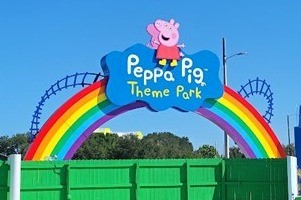 Get ready for a delightful adventure with Peppa Pig and her friends at the world's first Peppa Pig Theme Park, now open in Winter Haven, Central Florida! Designed especially for preschoolers and their families, this immersive experience offers a range of oinktastic rides, attractions, play spaces, shows, and character meet and greets. Located steps away from LEGOLAND Florida, the Peppa Pig Theme Park is a must-visit destination for all little piggies and their parents. Join us as we take a closer look at this exciting new addition to Florida's amusement park scene.
Immersive Peppa Pig Experience
Prepare to step into the world of Peppa Pig as you enter the Peppa Pig Theme Park. This standalone park offers a range of activities that perfectly cater to the pace and interests of preschoolers. With no pressure or long walks between attractions, it's the perfect destination for a fun-filled morning or afternoon.
Oinktastic Rides and Attractions
The Peppa Pig Theme Park features six new rides specifically designed for young children. Here are some of the exciting experiences awaiting visitors:
1. Daddy Pig's Roller Coaster: Hop into Daddy Pig's recognizable red car and embark on an unexpected adventure as Mr. Bull's "digging up the road" leads to a curvy exploration of Daddy Pig's new shortcut. It's a family-friendly thrill ride that introduces brave "little piggies" to their first roller coaster experience.
2. Peppa Pig's Balloon Ride: Imagine winning the Fun Fair raffle and soaring to the sky in Miss Rabbit's hot air balloon with Peppa Pig and your family. Enjoy the brilliant view from the top as you experience this captivating ride.
3. Grandad Dog's Pirate Boat Ride: Join Grandad Dog on a family boat ride as you set sail to uncover hidden treasures. This swashbuckling adventure is sure to excite young explorers.
4. Grampy Rabbit's Dinosaur Adventure: Take a ride on a friendly dinosaur and explore the prehistoric surprises at Grampy Rabbit's Dinosaur Park. Parents can accompany their little ones on this epic dino quest.
5. Peppa's Pedal Bike Tour and George's Tricycle Trail: Let the little ones pedal their way through a camping adventure in the woods, experiencing the sights, smells, and sounds of the great outdoors. Younger cyclists can enjoy George's shorter pedal path adventure on specially designed tricycles.
6. Mr. Bull's High Striker: Hold on tight as the hammer hits the bell on Mr. Bull's High Striker, sending your family bouncing up into the sky. Be prepared for a surprise descent, as what goes up must come down!
In addition to these thrilling rides, the Peppa Pig Theme Park offers an array of additional attractions and play spaces. From the Muddy Puddles Splash Pad and George's Fort to Peppa Pig's Treehouse and Rebecca Rabbit's Playground, there's no shortage of fun-filled areas to explore.
Accessibility and Inclusivity
Peppa Pig Theme Park aims to ensure that all little piggies can join in on the oinktastic fun. The park features a newly designed ride vehicle for children using wheelchairs, allowing them to roll onto whimsical baskets shaped like hot air balloons without the need for transferring. Wheelchair accessibility is also a priority in areas such as the Muddy Puddles Splash Pad. Moreover, Peppa Pig Theme Park has partnered with The International Board of Credentialing and Continuing Education Standards (IBCCES) to become a Certified Autism Center (CAC), providing a Certified Autism Center (CAC) designation ensures that families with children on the autism spectrum can enjoy a sensory-friendly and inclusive experience at the park.
Tasty Treats at Miss Rabbit's Diner
When it's time to refuel, head over to Miss Rabbit's Diner, the all-new sit-down quick-service restaurant within the Peppa Pig Theme Park. Offering a delightful menu of kid-friendly foods, the diner serves up classic family favorites, handheld sandwiches, fresh healthy choices, and delicious desserts. With ample indoor and outdoor seating, it's the perfect spot to relax and enjoy a satisfying meal.
Tickets, Vacation Packages, and Reservations
Excited to visit the Peppa Pig Theme Park? Tickets are now available, and a variety of options cater to different preferences. You can choose Peppa Pig Theme Park access only, starting at $34.99, or combo tickets that include access to LEGOLAND Florida and the water park. Vacation packages and all-inclusive offers, including a third night free, are also available. To make reservations or find out more information, visit the official website at peppapigthemepark.com.
The world's first Peppa Pig Theme Park in Winter Haven, Central Florida, is a dream come true for little piggies and their families. With its immersive experience, oinktastic rides and attractions, inclusive design, and tasty dining options, the park promises endless fun and unforgettable memories. Whether you're joining Daddy Pig on a roller coaster adventure, floating in a hot air balloon with Peppa Pig, or embarking on a dinosaur quest with Grampy Rabbit, the Peppa Pig Theme Park is the perfect destination for preschoolers to explore, play, and create magical moments. Plan your visit today and immerse yourself in the joyous world of Peppa Pig!
Add Your Comment
Use the following form to leave your comment on this article.