Magic Kingdom Facts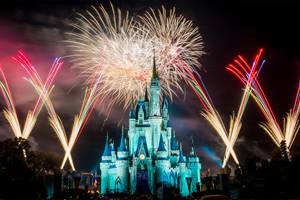 Magic Kingdom is Disney's first theme park in Florida. It was opened in 1st October, 1971.
Currently this is world's #1 theme park in terms of visitors. It attracted over 19 million visitors during year 2014.
It is built on 107 acres of land.
There were 23 attractions in Magic Kingdom when it was opened. Currently there are over 135 attractions in this theme park.
The park is divided into six different zones, each with distinctive attractions. They are Main Street, Adventureland, Frontierland, Liberty Square, Fantasyland and Tomorrowland.
At the center of the theme park is Cinderella's Castle, which is the tallest structure in Magic Kingdom. The castle is made out of fiberglass.
There is underground tunnels in Magic Kingdom called the Utilidor.
The lake Seven Seas Lagoon in front of the theme park is man-made.
Access to Magic Kingdom from the parking area is either by ferry boats or monorails.
Comments
There is 1 comment made on this article.
Add Your Comment
Use the following form to leave your comment on this article.