Major Attractions of Busch Gardens (Tampa, FL)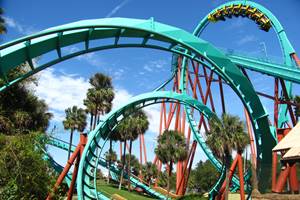 The Rides
1. Falcon's Fury
It is the tallest freestanding drop tower at 335 feet. At the ride's highest point, it pivots 90 degrees to face you straight down before it thrusts you to the ground. At the last moment, it turns you back so that you land on your feet. 
2. SheiKra
A roller coaster that incorporates 70mph speeds climbs of 200 feet and 90-degree drops, all without a floor, can't be called anything less than 100% fun!
3. Congo River Rapids
What is more fun than not knowing what is around the bend and who will or won't get wet as you travel down a river of rapids on a round raft. 
4. Kumba
If loops are your thing, you want this roller coaster! Start with a 135-foot drop and you're on your way!
5. Montu
The inversions on this rollercoaster are amazing! When your stomach finally catches up with you, you won't want to stop! 
6. Tanganyika Tidal Wave
This seems like a nice quiet ride through some ruins, until your boat starts to climb a tough. A little tossing about at the top and you are headed for the bottom of a 55-foot waterfall drop.  Hope you aren't planning on staying dry! 
The Shows
1. Opening Night Critters - Pantopia Theater
An all-animal production featuring rescued animals with a couple of stagehands. 
2. Motor City Groove- Marrakesh Theater
The music of Detroit and the soul era is performed. 
3. Live Music at Dragon Fire Grill-The Platters
Performance in January of 2016
Park Experiences
1. Animal Care Center Behind the Scenes
A tour of how the animals are taken care of and lifesaving treatment. Medical examinations and informational programs are shared. 
2. Guided Adventure Tours-Serengeti Safari
See animals on safari up-close, with some, you can feed. Bring a camera to get pictures.  There are 65-acres of Serengeti Plains for this animal interaction tour. You'll take an open-air vehicle across the country to view the animals found on a wild African safari. Take pictures and have opportunities to get close to animals like giraffes,
Or you have the option of coming in the evening for the 
3. Serengeti Night Safari 
and meet for appetizers and drinks before heading out on a guided expedition. Come back and sit by a bonfire.  
Kid Friendly Attractions
1. Sesame Street Safari of Fun
There are plenty of rides here for children to have fun on. Air Grover is a roller coaster with turns and small dips. The Counts Zambezi Rally are cars on rails that kids can drive around the track. Big Bird's Whirly Birdie gives the children a fun ride close to a Ferris wheel experience. 
2. Treetop Trails
It is a three-level tree playground for older children to climb and explore. There are steps, tarps, nets, and balance beams where children can navigate the course to get from one area to the other. There is an area where the younger children can play in the water. 
Photo by Jeremy Thompson
Add Your Comment
Use the following form to leave your comment on this article.